soundinstallation
2013

format: wood, steel, electronics
this sound installation consists of 8 objects of different sizes with trumpets.
the objects contain electronic devices, such as hard discs, monitors and computers, whose activity is acoustically and mechanically measured by means of electromagnetic induction.
the work refers to the noise-generating devices called "Intonarumori" constructed by the futurist painter and musician luigi russolo and stands in the tradition of his manifesto "l'arte dei rumori" (the art of noises, 1916).
these noise-generators, which in russolo's time aroused much controversy in the world of music, are transported into the present time. the usage of the equipment in the objects is deflected, diverted and reimplemented focusing on its qualities as analogue sound generators.
the temporally defined composition notated in java code allows the viewer access to acoustic phenomena, sounds and rhythms he or she may have never heard before.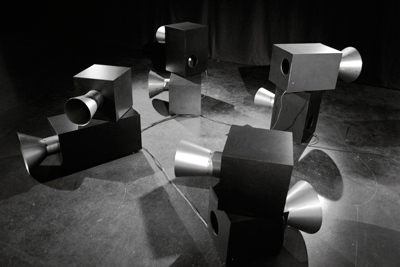 exhibition [at] the essence 2013
künstlerhaus, vienna
(c) this work is in possession of the collection MUSA artothek - city of vienna