marsch
sound installation
28 snare drums, solenoids, electronics
march is a sound installation consisting of 28 snare/marching drums.
the installation was part of the solo-exhibition "totalitäre klänge" at johannitterkirche, feldkirch in 2016

The installation plays a pre-composed military march entirely on its own.
the drum beat is generated by means of electrical impulses that trigger solenoids. this allows the possibility of implementing rhythmic compositions entirely without a performing musician. the marching drums refer musically as well as metaphorically to their social function as a signal for warlike actions and their glorification in the context of traditionalism.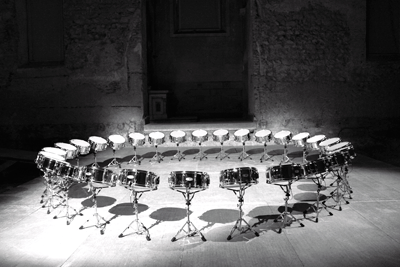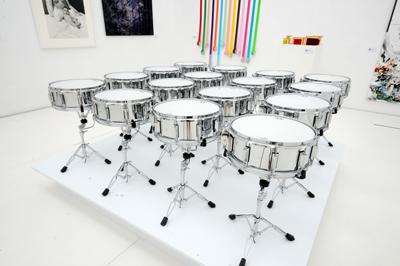 exhibition [at]
exhibition may-aug 2016, johanitterkirche, feldkrich
27.04. - 11.06.201, galerie allerart, bludenz, austria
picture 2 (c) galerie allerart.