sound-installation
2011

format: turntable (var), amplifier, speaker, metal
unerwartete schleifen is designed for a variable number of record players,
the sound being provided by defective records, which produce a continuous repetitiv pattern (loop or ostinato). the defect in the medium provides the
initial basis. the speed of the records is varied by means of a microcontroller and the arrangement recorded not as a musical score but as a timeline in code. the decontextualisation of the sound and the changing attention focus create a sound character, while the combination of patterns and their manipulation over time produce a new formal "music from music" structure.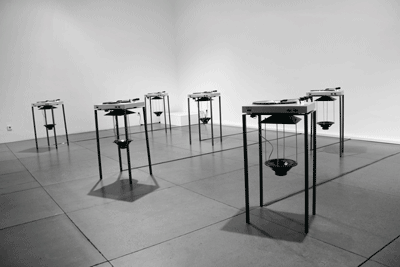 exhibitions [at]:
y/our/space - neue positionen digitaler kunst
wien eins, hoher markt, vienna
the essence 2011 - jahresausstellung der univ. f. angewandte kunst
location: MAK, vienna